Gist Silversmiths For Father's Day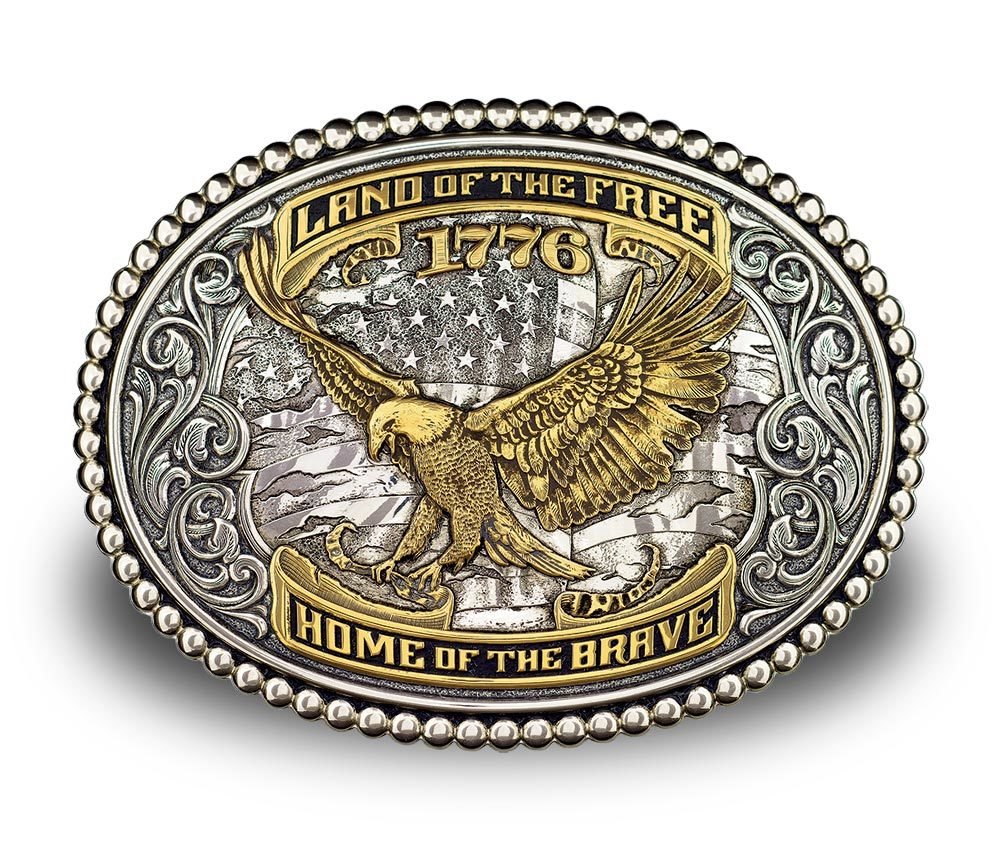 For 50 years, Gist Silversmiths has set the standard for silver buckle design and craftsmanship. It's their uncompromising devotion to quality – combined with a service ethic that's second-to-none – that makes Gist Silversmiths the choice of champions. They believe, what a champion gets should be worth what a champion gives.
For 50 Years, Gist Silversmiths Has Been Making Customers Happy

LET'S LOOK AT THE EARLY YEARS – ROPING AND RODEO FUEL A LIFESTYLE AND A THRIVING BUSINESS!
Born to Byron and Mickey Gist, Gary was raised in southern California. Byron was an ornamental ironsmith in Lakeside, CA, crafting everything from ornate fencing to weathervanes and giving Gary his first exposure to artistic design and manufacturing.
Byron schooled his son in horsemanship and influenced him to work hard … learn, practice and strive to be the best.
In 1953 at age 7, Gary entered his first jackpot with Byron. "I was riding my half Welsh and half Shetland pony named 'Blackie'. It was a 2-steer for $1.50 a man. I remember coming home with eighteen $1 bills to show Mom. Needless to say, I was hooked on roping," remembers Gary.
At age 12, Gary joined the PRCA, making him their youngest member.
 In 1962, at age 16, Gary and Byron competed in the Pro Rodeo World Championships and the National Finals Rodeo.   They went on to compete at the NFR for 12 years.
The highlight of Gary's roping career came in 1964 at age 18, winning the NFR Average with his dad Byron and finishing second in the World standings. "We were actually the youngest father and son team around in the 50's and 60's", said Gary. "And we roped so long together as a father and son team, I'm sure we were the oldest!" Sadly, Byron passed away in 2013 at the age of 91, but Gary has a lifetime of fond memories, one of which is roping with him up until he was 85 years old.
In 1964, at age 19, a letter in the mail changed the course of Gary's life… Drafted into the Marines, he spent 2 years serving his country during the Vietnam conflict. The "long days of sitting and waiting" while serving, gave him time to think about his future. He gave serious thought to becoming a professional silversmith and believed he could start his own business.
Family … and a Team of Experts help the business grow and thrive!
Following in their father's footsteps, Gary's sons Branden and Chad have excelled in different aspects of the business.
· As a teenager, Branden started in the tool and die shop, an area which forms the foundation for the company's growth and development of superior advances in the reproduction of a variety of design elements and manufacturing strategies. Working his way up from Shop Foreman to Plant Manager, Branden now guides the team of artisans.
· Chad began engraving at 11 years old, laying the foundation for his love of art. As Art Director and one of the best buckle designers in the industry, he continues to create unique and innovative designs, keeping Gist Silversmiths the forerunner and most sought after award and custom buckle in the world.
· Simplistic designs of 50 years ago have given way to more creative influences and our art department has continually risen to each new challenge, creating unique lettering fonts and stone settings along with innovative shapes and edge design.
Customers … fuel the creativity and growth over the decades!
A Few Of Their Gorgeous Pieces
Whether it's a new buckle, knife, money clip, cuff links or more, Gist Silversmiths has a special gift for Father's Day!
Latest posts by Cowgirls In Style
(see all)