The Perfect Christmas Read This Holiday Season!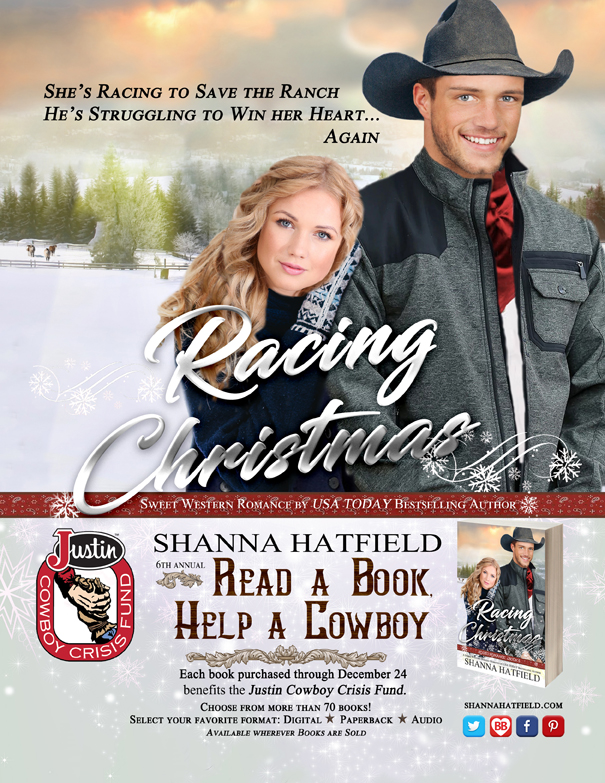 Shanna Hatfield's heart felt novel, "Racing Christmas," will not dissapoint. I loved every part of this book. The rodeo action was incredible and the sweet romance between the lead characters, Brylee and Shaun were the perfect dose.
Brylee, who is hoping to save the family ranch by winning the coveted barrel racing championship at the NFR, is injured one night on a muddy course. She has to suck up her pride as past relationship, Shaun Price is the pick up man, who comes to her aid. With strong feelings still between them, Brylee tries to push them aside as she has one goal in mind. With the holidays fast approaching and many difficult memories of their past relationship, will they find the forgiveness they both need to start again?
This book is the perfect read for the holidays. It was a book that I could not put down. Such a sweet caring story and it included everything I love. Rodeo, Romance and Christmas!
Shanna has a way of bringing characters to life, engulfing you in the moment. Don't miss out on this read. It will be a book that will uplift and entertain you this holiday season.
Also, did you know that this is her sixth annual, "Read A Book, Help A Cowboy," Campaign. If you buy one of Shanna's books through December 24th, she will donate 10% of all her net book proceeds to the Justin Cowboy Crisis Fund. The JCCF is a non-profit organization that assists rodeo athletes who have sustained catastrophic injuries and are unable to work for an extended period. The JCCF steps in and steps up, offering support to injured cowboys until they can get back on their feet and back to competing. It's a wonderful thing for the rodeo athletes to be able to heal without being overwhelmed by financial worries. The other great thing about the JCCF is that they dedicate one hundred percent of all contributions received for disbursement to eligible applicants without any administrative fees being subtracted. When you donate $1, that whole dollar goes directly into the fund.
You can find Shanna's books in digital, paperback, hardback, and audio formats. She writes sweet historical and contemporary romance, rural humor. She has also written a children's book, cookbooks, and entertaining guides.
You can find her books at, Amazon, Amazon UK, Barnes & Noble, Smashwords, Apple, Audible, Books a Million. Go to her website at www.shannahatfield.com
Latest posts by Cowgirls In Style
(see all)