12 Days After Christmas Spending Ideas American West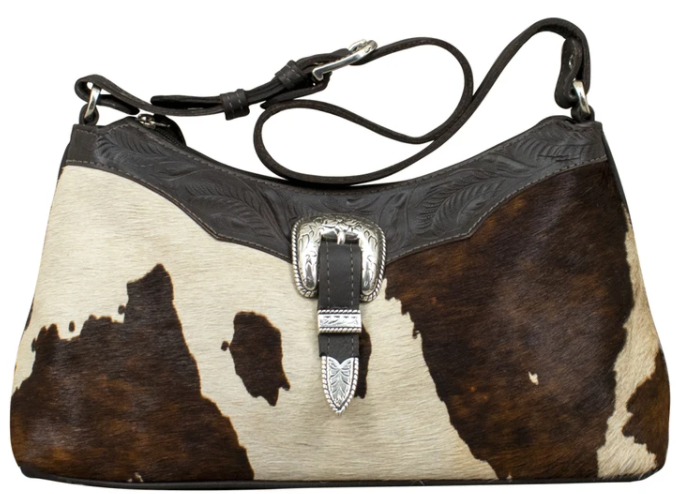 We are starting our '12 Days After Christmas' Spending Ideas!
For those of you who might have gotten Christmas money and not sure how to spend it, never fear, we have got you covered with our '12 Days After Christmas' Ideas!
Day 1: American West
With American West having their 30% off sale, how can you not shop!  Use code: Merry30
Here are some of our favorites!
Grab-And-Go Foldover Crossbody
7750078
Regular price
$ 119.00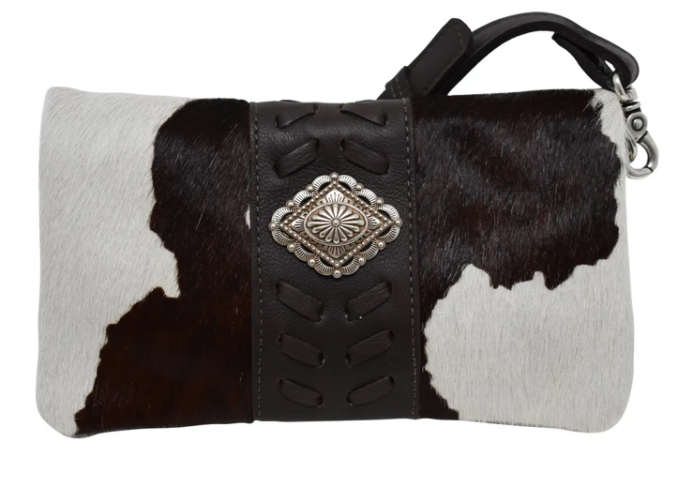 With so many colors to choose from!
100% genuine full-grain leather
Hand stained and hand-tooled
Multiple pockets for organization
American West signature 100% cotton lining
Includes a protective storage bag
Adjustable strap 15-28" drop
Dimensions: 8.5 x 5 x 2
Clutch bag…? Small purse…? Oversized wallet…? This crossbody bag is so versatile, you can decide! The inside contains one zippered compartment for your essentials and another for cash and coins. With 6 credit card spaces and a large bill space, this little bag is deceivingly big! All of this with a tabbed magnetic closure and a removable adjustable shoulder strap. Each piece is made by hand, one at a time.
Harvest Moon Ladies' Tri-Fold Wallet
6315282
Regular price$ 89.00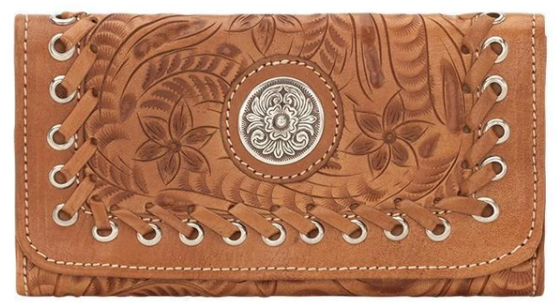 100% genuine full grain leather
Hand-stained and hand-tooled
Spring snap closure
Back zipper coin pocket
Interior contains 13 card slots, flap for a checkbook, and 5 compartments, all made of genuine leather
Dimensions: 7.5 x 4″
The popular tri-fold wallets feature hand tooled designs, eye catching conchos, and an exterior zipper coin pocket. The full leather interior includes 12 credit card spaces, 1 clear ID space, multiple currency pockets, and a checkbook flap.
Mens Rodeo Wallet
0565158
Regular price$ 49.00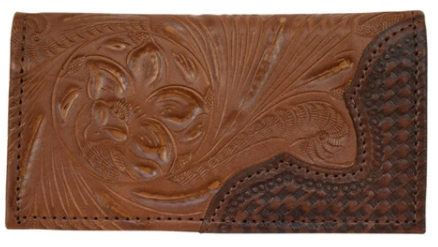 100% genuine full-grain leather
Hand-stained and hand-tooled
Interior contains 6 card slots, 3 compartments, and a flap for a checkbook
Dimensions: 3.5 x 7″
Cowtown Zip-Top Shoulder Bag
4150285
Regular price$ 198.00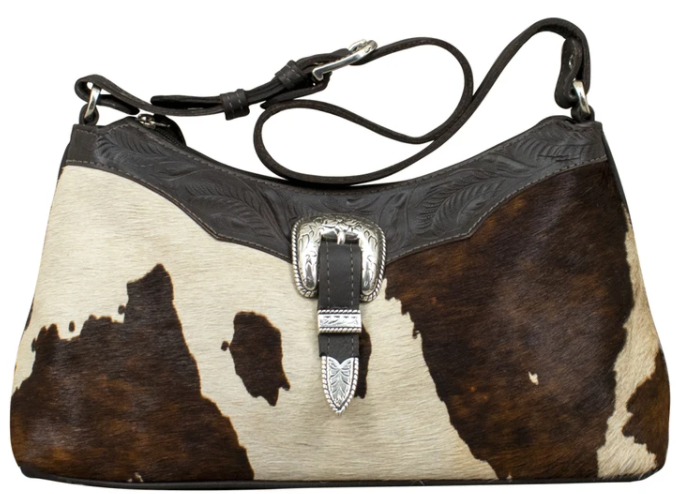 Buttery soft 100% genuine chrome leather and hair-on cowhide
Zipper closure
American West signature cotton lining with 1 interior zipper pocket and 2 interior open pouches
Adjustable shoulder strap 12-15″ drop
Dimensions 13 x 7 x 3.5″
Free and easy styling is just part of this conveniently sized shoulder bag's irresistible charm. Created in soft, tumbled genuine leathers and trimmed with genuine hair-on cowhide, this bag will create a striking accent to any outfit. Each handbag has a cotton lining, an interior zip pocket, interior accessory pouches, and also includes a protective storage bag.
Small Ladies' Tri-Fold Wallets
6778882
Regular price$ 78.00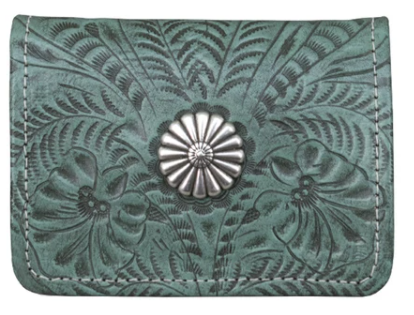 100% genuine full grain leather
Hand-stained and hand-tooled
Snap closure
Dimensions: 5 x 3.75″
Fits all crossbodies
This popular small tri-fold wallet features hand tooled designs, an exterior zipper coin pocket and it's full leather interior includes 8 credit card spaces, 1 clear ID space, 2 currency pockets, and 5 misc card sized slots
There are so many more options to choose from as well!  Go to www.americanwest.cc and use the coupon code  Merry30 for 30% off!
Latest posts by Cowgirls In Style
(see all)