Cowgirl Fit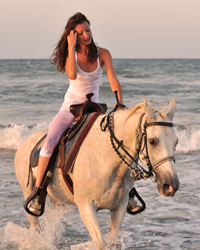 Get Cowgirl Fit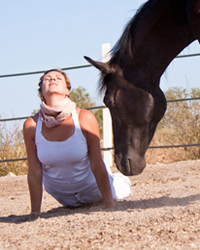 Did you know there is a difference between fit and Cowgirl Fit?  May people say they would like to ride a horse to get fit.  Well, we think there are more ways than just getting fit by riding, we think it is important to get fit to ride your horse. What horse wants a bunch of "dead weight" on their back?
Getting fit for riding is essential.  There is a lot that goes into proper riding; posture, balance, and flowing with your horse's movements.  This takes muscle and energy to do.  If you are properly riding your, you should feel a little worked after your ride and not just feel as if your horse has given you a ride.
One of the ways that we make it fun to get Cowgirl Fit is with our regular challenges.  You can join with a friend or we can pair you up.  The average challenge is from 30  – 40 days and you will get tips, ideas and recipes while working through the challenge, not to mention support from your partner.
We also make it fun with a few prizes.  We give away 2 first place prizes to the top winners.  In the past we have given away pairs of Stetson boots, Noble Outfitters boots, gift certificates and more.
Make sure you like our facebook page http://www.facebook.com/cowgirlsfit
Latest posts by Cowgirls In Style
(see all)