My Favorite Personal Blender
For my 'Editor's Pick' in this issue of Cowgirls In Style Magazine, I selected the Blendjet personal blender and for good reason…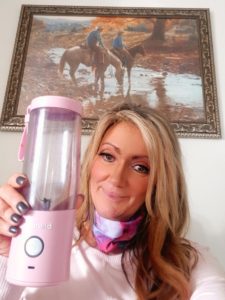 This is hands down my favorite personal blender that I have ever owned! I blend a lot of shakes for my workouts and breakfast and have been doing this for years and this little blender will chop up ice, vegetables, fruit and much more in a breeze. You can also use it as a food processor in chopping nuts and other ingredients. And it is rechargeable with its USB port which makes it so handy. The hardest part about ordering is selecting a color as they have 16 colors to choose from. I of course, had to pick my power color, which is PINK… but the other colors are amazing!
I became a health coach about 5 years ago and I have blended breakfast shakes for years.  This one makes it a snap! My goal this year is to start eating more healthy as the pandemic kind of got me into a fitness free fall, which isn't good.  I totally lost track of my fitness goals and kind of let myself go.  This little blender has helped me get back on the wagon.  I can't say enough good things about this blender.
It is also self-cleaning. Just add a drop of dish soap and water, turn on and it cleans itself. It is amazing.

Get 12% off of the Blendjet and FREE shipping with my coupon code sgentry12 at https://go.blendjet.com/susan-gentry
Latest posts by Cowgirls In Style
(see all)