Is there Help for a Rider's Sun Damaged Skin?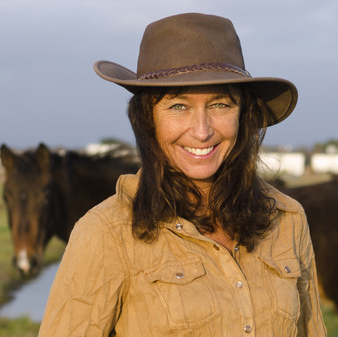 Is there Help for a Rider's Sun Damaged Skin?
Many of us who are now reaching the age of late thirties, forties, fifties and above are finding that our years of riding have taken a toll on our skin.  Looking in the mirror can sometimes be an eye opening experience.  But is there hope of reversing the signs of aging and the years of over spent hours of sun kissed skin? The answer is Yes!  But remember, you will never have that texture and elasticity you once did in your twenties.  Well, never say never.   Some may do surgeries, BOTOX and other procedures, but it is hard to get what used to be youthful skin fully back in your middle age years.
Here are a few ideas for getting your skin glowing again with a little more youthful appearance.
Exfoliating... Make sure you are exfoliating your skin.  The buildup of dead cells can reek havoc on the skin and make it appear blotchy and uneven.  Scrubs, alpha hydroxy acid (AHA)* cleansers, and home microdermabrasion kits (in which tiny crystals are sprayed on the skin) can remove dead skin cells, leaving skin looking smoother.
We actually found one from Amazon that is very reasonable and the reviews on it are incredible.  It's from Neutrogena and helps with anti-aging and getting firmer, younger looking skin. You won't break the bank to give it a try.


Hydrate... Drinking water during your day can do wonders for your skin. Make sure you are drinking at least 8 cups of water per day.  Also, lotions, creams and moisturizers will help with the dryness.  A moisturizer night and day will also help the skin get re-hydrated and wrinkles will not be as noticeable.
With rave reviews, we have found the Olay Regenerist Micro-Sculpting Serum Advanced Anti-Aging Fragrance-Free 50ml to be one of the best on the market and very affordable when it comes to anti-aging creams.
Bleach your brown spots… Did you know you can bleach your brown spots?  Well you can!  There is a over-the-counter product that contains kojic acid in combination with hydroquinone, Retin-A* which many dermatologists recommend.  We found an excellent cream on Amazon that has gotten 100% 5 stars.
Most importantly, make sure you see a dermatologist.  Professional laser treatments can improve almost anything!  It's also a way to get checked for skin cancer and other various skin care problems. 
*Cowgirls In Style Magazine searches for the best and most affordable products for our readers.  CIS Magazine may earn an affiliate commission.
Latest posts by Cowgirls In Style
(see all)