S.E.M. Leather Bags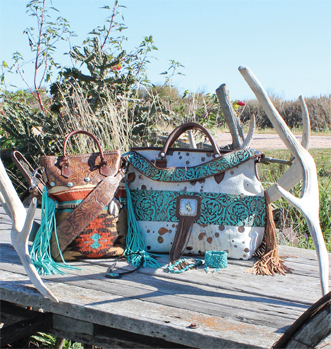 If you haven't seen S.E.M. Leather Bags, we want to introduce you. They are gorgeous and durable. I had Stephany make me a special order bag and I love it!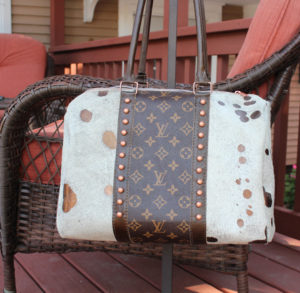 Stephany started making her purses as a hobby about 11 years ago. She was working full time at a western store and one day they received a large order of exotic longhorn cowhides. With her creative brain, she thought… What can I make with one of these hides? She found one with beautiful markings and color were so unique. She went to the tack room and picked up a lariat rope. She took them both home that night, sat down and drew out her first pattern. She punched holes in the cowhide and did a whip stitch to bring it all together and cut the handles from the lariat rope. Her first cowhide purse was born. She started to sell them at the western store, so in her spare time if she had any spare time, she would make handbags and by world of mouth, she started to get very busy with purse orders.
She then started thinking of a business name and came up withher initials, S.E.M. and since she worked with leathers and made handbags, that ws the beginning of S.E.M. LEATHER BAGS. But after three years of trying to do both work a full time job and then go home and make handbags, she was feeling some stress. She also had a husband and a son to care for as well, plus her animals. She made the decision to start her own business, and is now so happy that she did. It was a lsow process at first, but with strong support and a network of great friends and family, they are still hand designing beautiful handbags here in the U.S.A.. She feels she is very blessed and gives all credit and glory to the Lord Jesus Christ.
To find out more about Stephany's handbags check out our latest issue of Cowgirls In Style Magazine.
You can also visit her website at  http://www.semleatherbags.com
Latest posts by Cowgirls In Style
(see all)