The Latest Issue Of Cowgirls In Style Magazine!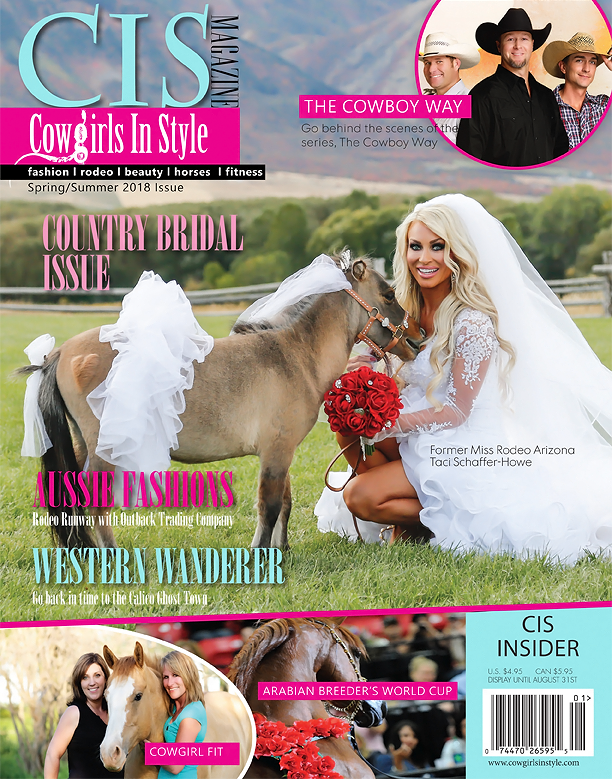 Get Ready For Our Spring Issue!
We are featuring the beautiful former Miss Rodeo Arizona and Miss Rodeo America 2015 First Runner Up, Taci Shaffer Howe on the cover of our spring issue.  Taci makes the most gorgeous bride along with her little mini "Bitzy Boo."  Enjoy the beautiful photos of Taci's wedding along with a one on one cowgirl chat with the former queen.
Also in this issue we are getting down and dirty with Bubba, Cody and Booger from the hit television series, The Cowboy Way.  Now in it's second season and just finding the green light for a third season, these cowboys are living pretty!  This Insp Channel series brings good ole' fashion values and morals to our modern day world.  Check the series out every Thursday night at 8pm ET.
With this issue being our Country Bridal issue, you will appreciate some beautiful cakes, accessories, invitations and more in this issue.  This is a great issue to keep if you are planning a wedding in the future, or if your child or grandchild is planning theirs!  Also, we have featured an article on the Arabian Breeder's World Cup!  This event will be in Las Vegas April 12th-14th.  Check out this beautiful breed and the Arabian Breeder's lifestyle.
We are also launching the new Cowgirl Fit Community and we have included all the information you need to know to become a member.  Summer is right around the corner, why not join a country fitness community where you can not only drop a few pesky pounds or more, and get in shape while making lasting friendships with cowgirls around the country!
There is so much for you to enjoy in this issue that we haven't even mentioned!  We would love for you to get your copy by going to Subscribe!  You're going to love this issue!
Latest posts by Cowgirls In Style
(see all)