How About a Prosecco Van for your Wedding or Party?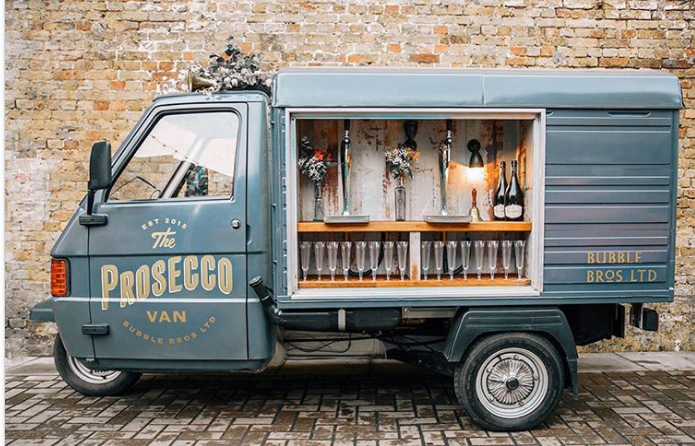 When it comes to outdoor parties, one UK-based company definitely knows how to beat hot summer days by serving bubbly in the coolest way possible.
London-based company Bubble Bros. has converted a tiny Piaggio Ape into a sparkling wine bar on wheels, according to Martha Stewart Weddings. Since 2015, the bar staff has been rolling up to weddings, private events, and festivals and serving perfectly chilled drinks through a tap right off the side of their van—goodbye, ice buckets! As if that weren't enough, hosts also have the option to serve Prosecco from a 1969 motorbike-and-sidecar setup.
"The last thing anyone expects to see as they rock up to your reception is a little Italian van or motorbike serving bubbly," Joe Bruce, the company's co-founder, told Martha Stewart Weddings. "We often find that our vans and bikes become the focal point."
While this unique experience is only offered for events across the pond right now, you can still recreate some of the van's magic here in the States, and a great first step is learning how to chill sparkling wine to perfection at your next summer gathering.
"Get it as cold as you can. The frostier the better," Bruce said. "A good, dry Prosecco should be served extra chilled. You should also offer your guests something sweet to add since some people don't like the dryness. A little fruit nectar can help."
(h/t Martha Stewart Weddings)
From Country Living
Latest posts by Cowgirls In Style
(see all)