Hallmark Christmas Movie Lineup For 2020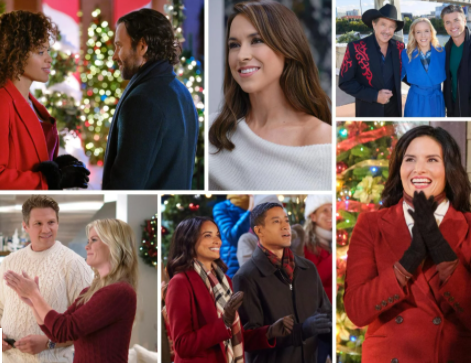 Hallmark Channel's Christmas movies schedule for 2020:
Jingle Bell Pride
Premieres: 10/24
Stars: Julia Gonzalo and Ronnie Rowe
A wedding planner ends up in a remote Alaskan town and falls in love with its Christmas pageantry, as well as the local man helping her find a rare flower.
Chateau Christmas
Premieres: 10/25
Stars: Merritt Patterson and Luke Macfarlane
An acclaimed pianist rediscovers her passion for music while spending the holidays with an ex at Château Neuhaus in Germany.
Christmas with the Darlings
Premieres: 10/31
Stars: Katrina Law and Carlo Marks
An aspiring lawyer winds up helping her boss's younger brother care for his orphaned nieces and nephews over the holidays.
One Royal Holiday
Premieres: 11/1
Stars: Laura Osnes, Aaron Tveit, Victoria Clark, and Krystal Joy Brown
A woman unexpectedly takes the Royal Family of Galwick during a storm, where she teaches them about her Christmas rituals.
Never Kiss a Man in a Christmas Sweater
Premieres: 11/7
Stars: Ashley Williams and Niall Matter
A single mother takes in an unexpected guest over Christmas, and the two quickly form a strong connection.
On the 12th Date of Christmas
Premieres: 11/8
Stars: Mallory Jansen and Tyler Hynes

A pair of game designers butt heads while creating a romantic urban scavenger hunt themed around the 12 days of Christmas.
Christmas in Vienna
Premieres: 11/14
Stars: Sarah Drew and Brennan Elliott
A professional violinist rediscovers her passion for music (and a potential new partner) while performing in Vienna.
A Timeless Christmas
Premieres: 11/15
Stars: Ryan Paevey and Erin Cahill
A man time travels from the turn of the 20th century all the way to 2020 and experiences Christmas at the historic mansion he once called home.
A Nashville Christmas Carol
Premieres: 11/21
Stars: Jessy Schram, Wes Brown, Wynonna Judd, and Kix Brooks
Inspired by the Charles Dickens classic, this is the story of a TV producer working on a country music special who gets a visit from the ghost of her mentor. The appearance forces her to reconsider her life path.
The Christmas House
Premieres: 11/22
Stars: Robert Buckley, Jonathan Bennett, Ana Ayora, and Treat Williams
A family at a crossroads reconnects over Christmas, all facing their own challenges. One son is waiting on adoption news for him and his husband, while another rekindles a high school flame.
A Christmas Tree Grows in Brooklyn
Premieres: 11/24
Stars: Rochelle Aytes and Mark Taylor
A woman planning a Christmas celebration must convince a firefighter to let her use his spruce tree for the festivities.
A Bright and Merry Christmas
Premieres: 11/25
Stars: Alison Sweeney and Marc Blucas
A pair of adversarial TV show hosts are sent to cover Christmas festivities in the same small town, discovering that they may not be enemies after all.
Five Star Christmas
Premieres: 11/26
Stars: Bethany Joy Lenz and Victor Webster
A woman trying to get a critic to write a positive review of her father's bed and breakfast inadvertently falls for him.
Christmas by Starlight
Premieres: 11/27
Stars: Kimberly Sustad and Paul Campbell
A woman trying to save her family's restaurant is offered a unique arrangement by the heir of the development firm that wants to tear it down. If she pretends to appear as his legal counsel they'll save the Starlight Café.
Christmas Waltz
Premieres: 11/28
Stars: Lacey Chabert, Will Kemp, and JT Church
A woman grapples with the cancellation of her Christmas dream wedding, and a dance teacher helps her pick up the pieces.
If I Only Had Christmas
Premieres: 11/29
Stars: Candace Cameron Bure and Warren Christie
A happy-go-lucky publicist and a jaded business owner work together to help a charity.
Christmas in Evergreen: Bells Are Ringing
Premieres: 12/5
Stars: Rukiya Bernard, Colin Lawrence, Antonio Cayonne, and Holly Robinson Peete
Two women work together to help launch a museum, while one grapples with the future of her relationship.
Christmas She Wrote
Premieres: 12/6
Stars: Danica McKellar and Dylan Neal
A romance writer's column is cancelled, and she returns home to spend Christmas with her family. Unexpectedly, the man responsible for the end of her column pursues her romantically.
Cross Country Christmas
Premieres: 12/12
Stars: Rachel Leigh Cook and Greyston Holt
Former school classmates have to work together to make it home in time for the holidays after a storm.
Christmas Comes Twice
Premieres: 12/13
Stars: Tamera Mowry-Housley and Michael Xavier
A newscaster still mourning a lost love gets an unexpected second chance when she finds herself back in time at a Christmas carnival five years ago.
Christmas Carousel
Premieres: 12/19
Stars: Rachel Boston and Neal Bledsoe
A woman is hired by the Marcadian Royal Family to repair a carousel, and must do so by Christmas.
Love, Lights, Hanukkah!
Premieres: 12/20
Stars: Ben Savage, Mia Kirshner, and Marilu Henner
A restaurant owner discovers she's actually Jewish and connects to her new family over the eight nights of Hanukkah.
---
Hallmark Movies & Mysteries' "Miracles of Christmas" schedule for 2020:
Christmas Tree Lane
Premieres: 10/24
Stars: Alicia Witt, Andrew Walker, Drake Hogeystn, and Briana Price
A music store owner works to save a historic shopping district from being destroyed, but finds that her new love interest is connected to the developer who wants to get rid of it.
Deliver by Christmas
Premieres: 10/25
Stars: Alvina August and Eion Bailey
A baker discovers that a mysterious client and a charming widower who recently moved to town are the same person.
Cranberry Christmas
Premieres: 10/31
Stars: Nikki DeLoach and Benjamin Ayres
A couple on the rocks has to pretend everything is going well to help their town's Christmas festival on television.
Holly & Ivy
Premieres: 11/1
Stars: Janel Parrish, Jeremy Jordan, and Marisol Nichols
A woman must renovate her home so she can help care for the children of an ailing neighbor.
The Christmas Ring
Premieres: 11/7
Stars: Nazneen Contractor and David Alpay
A journalist investigates the story behind an antique engagement ring with the help of the ring owner's grandson.
The Christmas Bow
Premieres: 11/8
Stars: Lucia Micarelli and Michael Rady
A violinist reconnects with an old friend while grappling with an accident that has paused her music dreams.
Meet Me at Christmas
Premieres: 11/14
Stars: Catherine Bell and Mark Deklin
A mother must plan her son's wedding with the help of the bride's uncle after the planner unexpectedly quits.
The Christmas Doctor
Premieres: 11/15
Stars: Holly Robinson Peete and Adrian Holmes
A doctor must decide between a job far from home and the revelations of a mysterious man from her past.
A Little Christmas Charm
Premieres: 11/21
Stars: Ashley Greene and Brendan Penny
The discovery of a lost charm bracelet leads a jewelry designer and an investigative journalist to try and return it to its owner before Christmas.
The Angel Tree
Premieres: 11/22
Stars: Jill Wagner and Lucas Bryant
A journalist searches for the person who grants people's wishes in a town, and encounters a childhood friend along the way.
USS Christmas
Premieres: 11/28
Stars: Jen Lilley, Trevor Donovan, and Barbara Niven
A reporter on a Tiger Cruise over the holidays meets and falls for an officer aboard the boat, and uncovers a mystery along the way.
Time for Us to Come Home for Christmas
Premieres: 12/5
Stars: Lacey Chabert and Stephen Huszar
Five guests who share an unexpected connection are invited to spend Christmas together at an inn.
A Godwink Christmas: First Loves, Second Chances
Premieres: 12/6
Stars: Brooke D'Orsay and Sam Page
A man ends up stuck in traffic next to his old high school flame after moving with his family to Hawaii.
A Glenbrooke Christmas
Premieres: 12/12
Stars: Autumn Reeser and Antonio Cupo
A wealthy heiress spends the holidays in a small town, eventually falling for a handsome fireman.
Christmas Homecoming
Premieres: 12/13
Stars: Taylor Cole and Steve Lund
A couple are given a strange key and an enigmatic riddle that launches them on a yuletide adventure.
Swept Up by Christmas
Premieres: 12/19
Stars: TBD
An antiques dealer and a cleaner try to figure out how to scale down a glamorous estate around the holidays, eventually connecting with the home's mysterious owner.
Project Christmas Wish
Premieres: 12/20
Stars: TBD
A woman who has served as her town's unofficial Santa Claus finds her own wishes coming true after helping a little girl.
Below is one of our very favorite Hallmark Christmas movies, "Christmas On The Range" from 2019 (Full Movie)
Latest posts by Cowgirls In Style
(see all)