Michael Landon's Youngest Daughter Jennifer Plays Teeter On 'Yellowstone'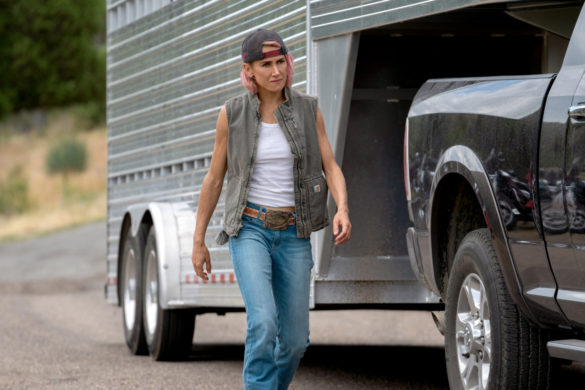 It took a while for many to realize that the new girl in the bunkhouse was Michael Landon's youngest daughter, Jennifer.
In season 3 of Yellowstone, a firecracker hit the bunkhouse by the name of 'Teeter', played by actress Jennifer Landon. Teeter's character sums up a powerful female addition to Yellowstone season 3's cast. Landon explains that when she first auditioned for the role, she used chewing gum as dip, which got added to the character's storyline on the show.
The daughter of the beloved TV actor Michael Landon,  would be destined to end up a TV star. She grew up in  Los Angeles, California, the prestigious Brentwood neighborhood  to be exact. She started her acting career as a little girl on her father's show, Highway to Heaven, after he had already made a name for himself starring in Little House On The Prairie and Bonanza. Michael passed away when she was only eight years old, but she continued acting. She even studied at  New York University  before returning to Hollywood.
Jennifer went on to win three consecutive Daytime Emmy Awards for Outstanding Younger Actress in a Drama Series for her role as Gwen Norbeck Munson in the CBS soap, As The World Turns. She even went on to play Heather Stevens on The Young and the Restless as well as  appearances on House, Days of Our Lives, Banshee, Chicago Med, and Animal Kingdom.
Landon told Decider, "Yellowstone's amazing. I'm a lunchbox actor. Each job is a job fought for and a job got. So after all that hard work, to get something like Yellowstone and to get to work Taylor Sheridan, who I have tremendous respect for, and with actors of this caliber, it's a no-brainer. Plus, I don't know if I'll ever audition for a part as cool as Teeter for the rest of my life. And I'm kind of okay with that."
View this post on Instagram
View this post on Instagram
But there is no doubt that Landon will be known for her current role on the Paramount Network's hit TV show Yellowstone opposite incredible actors, such as Kevin Costner, Kelly Reilly and Cole Hauser. Teeter was a quick fan favorite as soon as she first appeared on the Dutton Ranch. As Landon tells Decider, it's unclear if she'll ever top the role.
View this post on Instagram
Latest posts by Cowgirls In Style
(see all)